Room hire – The Classroom
Our Classroom at Dalmore Croft is located in the former workshop and has been converted to a high standard to provide a warm, light, spacious and comfortable learning or meeting space for small groups. The room measures approximately 9m x 4.5m.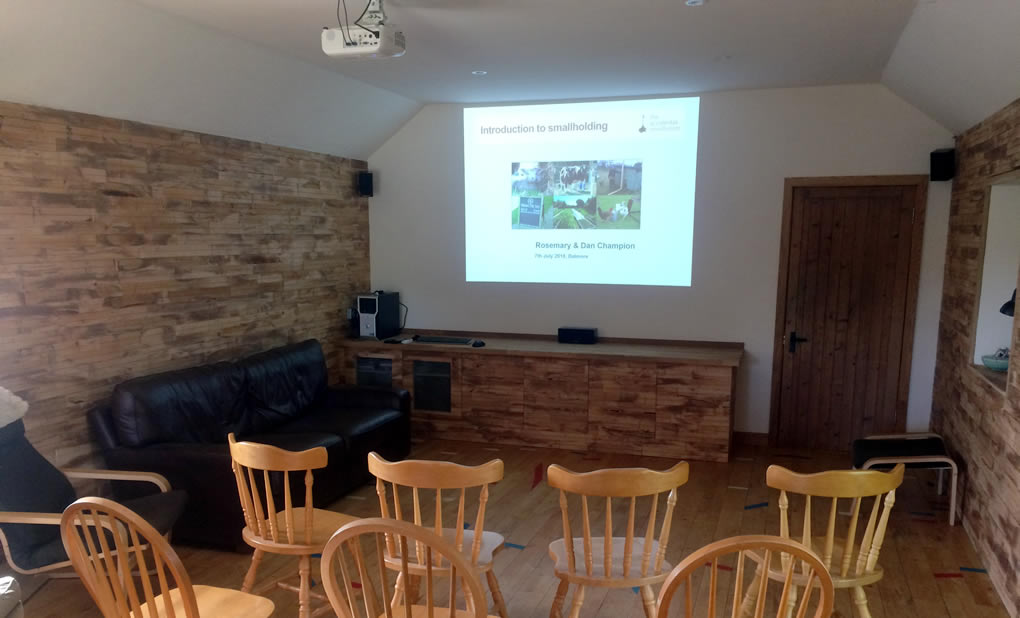 For hands-on learning events, we'd recommend a maximum of eight people plus tutor; for other types of events, please talk to us, we can accommodate larger groups up to 30 depending on your requirements. The Classroom is a single space with a wood burning stove and south facing French doors. Free high-speed wifi. There is a toilet located about 20m from the Classroom. There is a ceiling mounted full-HD LCD projector, bluray / DVD player, internet-enabled PC and a 5.1 surround sound system available to hire. An HDMI port is available for your own AV input equipment – laptop, games console etc. We can provide catering – homemade and using as many ingredients produced here at Dalmore as possible.
Rates
The Classroom is available to hire every day of the week, between the hours of 9am and 9pm:
By the hour, for up to four hours (minimum hire two hours): £20 per hour
Four hour block: £64
Hire of AV: £10 per hour
Bookings extending beyond 9pm can be accommodated by prior arrangement – please contact us to discuss your requirements.
How to book
Catering
Light Refreshments @ £5 per head – tea, coffee, soft drinks, homemade scone and homemade biscuits.
Lunch @ £10 per head – choice of two homemade soups, homemade bread and cakes, fruit bowl, tea, coffee and soft drinks.
Day catering @ £12 per head – two light refreshments and one lunch.
We can cater for vegetarians, gluten-free and special diets with notice.Numbers for catering must be confirmed and paid 48 hours before the event.
Parking
Extensive on-street parking is available on Station Road. We ask that cars do not foul the pavement.
Terms
'We' refers to Rosedean Group Limited, the contracting company. 'The premises' refers to Dalmore Croft, Station Road, Barry, DD7 7RS, including all grounds. 'The hired premises' refers to The Classroom and toilet at the premises, and their immediate surroundings.
Payment & booking
Full payment for room hire is required at the time of booking. You must notify us at the time of booking of the anticipated maximum number of attendees. Hirer must be over 18 years of age. Attendees under 16 years of age must be accompanied by an adult.
Cancellation
Terms for refund on cancellation:
14 days or more before the date booked: full refund;
7-13 days before the date booked: 50% refund;
Within 7 days of the date booked: no refund.
We reserve the right to cancel your booking at any time, without stating a reason.
Over-run
You agree to begin and end your room hire at the times agreed with us. Should you overrun the end time of the hire with or without agreement, you may be required reimburse us for any expenses incurred as a result of the overrun.
Smoking
Smoking on the premises is strictly prohibited. We reserve the right to terminate a booking without refund if any attendee is found smoking on the premises.
Food & drink
No food or drink permitted except by prior arrangement.The consumption of alcohol is not permitted on the premises.
Indemnity and damage
We accept no liability for loss of, or damage to, property brought onto the premises and which is owned by or in custody of you, your employees, guests, customers, clients, or invitees. You shall be responsible for any damage caused by you, your employees, guests, customer, clients or invitees to the premises, furnishing, utensils or equipment during the hire or as a result of the hire, and shall indemnify us against the cost of repair or replacement thereof.
Maintenance of order
The hirer must accept responsibility for and agree to maintain good order during the time the hirer is occupying the premises or any part thereto.
Fire regulations and First Aid
It is the hirer's responsibility to make attendees aware of fire regulations and exit points from the premises, and location of the fire extinguisher and first aid box.
Right of Entry
We reserve the right of entry into the hired building and a right to refuse admission or to remove any person from the building without stating a reason.
Limit of liability
We accept no liability for any breach of these terms and conditions caused by events beyond our control, which shall include, but not to be limited to, industrial action (whether on the part of our employees or otherwise), accidents, fire, riot, civil commotion and war. If any such event should occur, we shall use our reasonable endeavours to make suitable alternative arrangements, failing which we shall terminate the contract and refund your payment.